Global Education, What does it mean?
Perhaps you live and work in a community where you walk into your classroom each morning and you see around the room many faces that belong to different socio-economic backgrounds, gender identities, races, ethnicites, cultural backgrounds, ages, and religions. Maybe you live and work in a community where you do not see these distinctions. The truth is, even if you think you do not see the differences, they are there. Global Education, encompasses multiculturalism, it includes the understanding of and engagement with people of all backgrounds in a respectful, appropriate and effective way. It aims to educate learners through the kinds of knowledge, skills, attitudes and actions required to understand and engage with the world effectively (Howe & Lisi, 2014). The result of this kind of education is Global Citizens, participants and contributors, within local and global communities, who foster interconnection, inter-dependency, and social impact.
There are many terms and definitions associated with this type of learning that have grown over the past 50 years (Deardorff, 2006, 2009). One such term that surrounds this idea is Global Citizenship Education. According to a report from UNESCO in 2014, Global Citizenship Education relies on 3 domains of learning: Cognitive, Socio-Emotional, and Behavioural. (UNESCO,2014)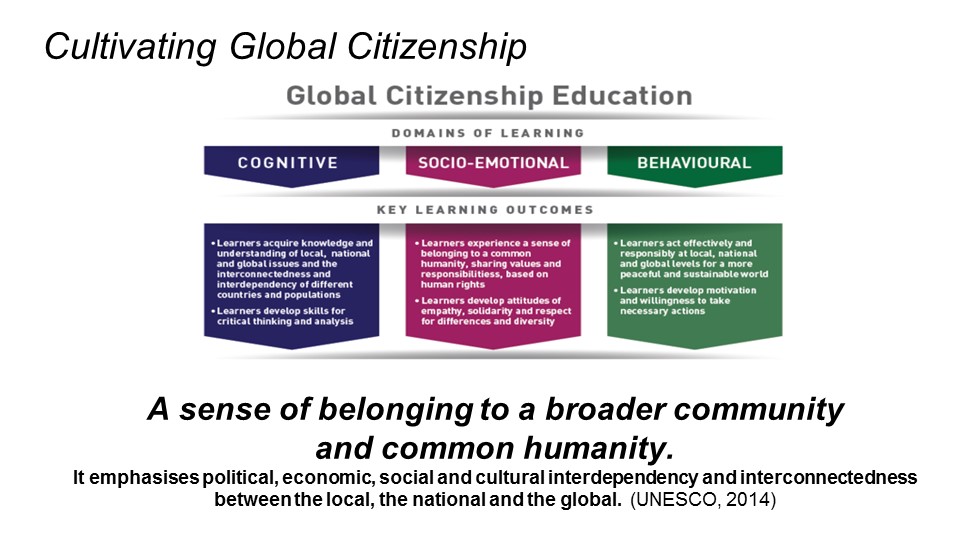 Global Education in the classroom, uses these 3 domains of learning to design interventions for increased:
Knowledge about identity, social and cultural backgrounds, community, and global issues
Social and emotional awareness and skills for managing emotional responses and impact
Behavioral strategies to create effective communication and interactions with self and the world
Creating intentional interventions in the curriculum that employ these 3 areas of learning, focused on self, community, and the world, equip students to create more equitable and just communities, while being prepared for the 21st century global work force. (British Council, 2013; Hunter, 2006; Kline, 2017; Mansilla & Jackson, 2011; Zhao, 2012)
No matter where you teach, to whom you are teaching, Global Education is necessary. Whether you have students who will be studying or working abroad or creating community projects in the classroom, students need to know how to interact with respect and appropriateness, to build relationships with others, and to contribute to the world.
Learn more about Global Education and Competence via our free series with Global Education Conference, Globaled .TV, Episode 1: "How Do We Define Competence in Global Education?"
Works Cited:
British Council. (2013). Culture At Work: The value of intercultural skills in the workplace. United Kingdom. British Council.
Deardorff, D. K. (2009). The Sage handbook of intercultural competence. Thousand Oaks, CA: Sage Publications.
Deardorff, D. K. (2006). Identification and Assessment of Intercultural Competence as a Student Outcome of Internationalization. Journal of Studies in International Education, 10(3), 241-266.
Howe, W. A., & Lisi, P. L. (2014). Becoming a multicultural educator: Developing awareness, gaining skills, and taking action. Thousand Oaks, California: SAGE Publications.
Hunter, B. (2006). What Does It Mean to Be Globally Competent? Journal of Studies in International Education, 10(3), 267-285.
Klein, J. D. (2017). The global education guidebook: humanizing K-12 classrooms worldwide through equitable partnerships. Bloomington, IN: Solution Tree Press, a division of Solution Tree.
Mansilla, V. B., & Jackson, A. (2011). Educating for global competence: Preparing our youth to engage the world. New York, NY: Asia Society.
UNESCO. (2014). Global Citizenship Education. Preparing Learners for the Challenges of the 21st Century. Paris, UNESCO.
Zhao, Y. (2012). World class learners: educating creative and entrepreneurial students. Thousand Oaks: Corwin.